Article: GUIDE FOR JEWELRY LOVERS-COVID19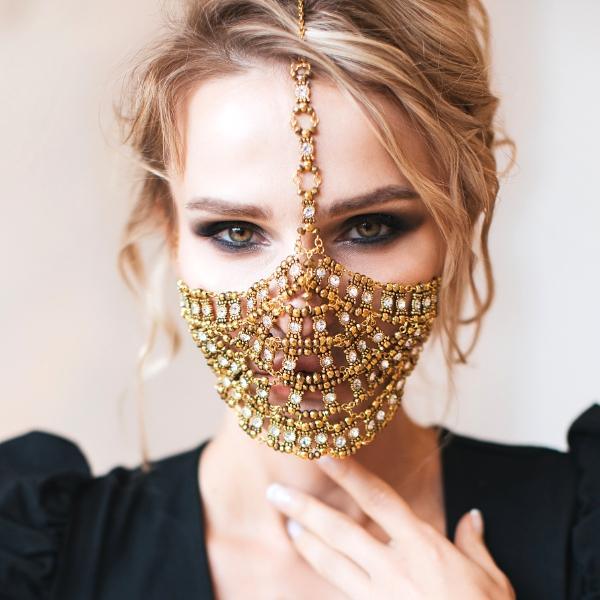 GUIDE FOR JEWELRY LOVERS-COVID19
Jewelry and accessories have been a girl's forte since time memorial.
The perfect complements to the beauty, those flaunty earrings, and ideal neckpieces truly spice up your looks. Before the pandemic, there was no chance to not look flawless at the office, meetings, and dates. However, don't let the quarantine ruin your vibes! There are plenty of things that you can do with your jewelry at home too. Stick to your persona, with the same pre-covid enthusiasm and continue to exude a high level of professionalism and confidence in your day to day life. Here are some quick  jewel care and creative ideas for all the jewelry lovers out there! 
Chic Ways to Jewel Up at Home
For the ones who Work from Home 
Since your face and torso are all that's visible on the camera, so don't leave any stone unturned to appear classy and professional. Put on some elegant studs, earrings, or danglers and couple it with a small pendant necklace! Accessorize it with a classy Klissaa watch or a stoned chain/bangle bracelet. It will give you the perfect look to meet your colleagues online.  
For the ones who Date from Home
Virtual Dates is a new concept to all of us. To appear realistic in the online world, you should accessorize with the jewelry that brings out your character. Not only will it help you to feel confident and at ease with yourself, but it will also allow you to better connect with the person.
If you love to glam up, then put on some hoop earrings along with pearl clip-on or studs. Pair it with a beautiful short gown or a sleek top that will look stunning with a low bun hairstyle. Single or multi-layered chains around your neck with the same color (gold or silver) as that of your earring will do wonders. Do not forget a stone chain or bangle bracelets and decent finger rings to achieve the perfect look!
However, if you like to dress casually and tomboyish, then we have something in store for you too. A curb chain or a choker with matching studs or hoops, coupled with a baggy T-shirt and some heavy hand Klissaa accessories like a chunky curb bracelet will make you look simple yet charismatic! 
 For the ones who Blog from Home
Quarantine has provided us with a lot of time for ourselves to explore the interest in us. If you love dressing up and clicking pictures we have an amazing idea for you. Sort out your jewelry and accessories, drape up a perfect dress and jewel up to create a beauty blog of your own. Experiment with the jewelry you have and become a beauty brand across the internet. 
Reuse your Old Jewellery! 
Here are some of the quirky and exciting ways to reuse your old jewelry:
Convert your old Bracelets to Choker
Remove the clips of a chain bracelet and tie both the ends with the adjustable threads. This will turn the bracelet into a beautiful choker
Gemify your plain accessories
Remove the plastic pearls or stone segments from any old necklaces or earrings and paste it on a plain hair clip or clutches to enhance it's look. 
Use Jewels for an At-Home Manicure 
Give your nails a fancy look at home and get the salon-style manicure at home! All you have to do is use the artificial gems or beads from your old jewelry that are small in size, and glue it to your freshly painted nails 
Add Some Shine to the Simple Ornaments
Turn your plain bangle bracelets into a fancy one, stick a heavy choker with the bangle as a base and it's party-ready.
Jewelry in your Hair
Ever worn Jewellery in your hair? Well, now you can. Modify a plain hairband to a gorgeous one by attaching an earring to it. For this, all you have to do is bend the stem of the earring inwards so that it maintains its position in the hairband.
Re-invent your Boring Clothes 
Stitch thin necklaces to the bottom of your shirt or the waistline of your jeans to give your old clothes some classy shimmer. This will make your old clothes look chic, yet casual! Makes a perfect outfit for a virtual meeting, don't you think?
Give your Handbags the Designer Look!
Decorate your old handbags with the Klissaa Earrings! Add some hoop earrings to the plain zipper to make it look attractive. You can also attach your danglers to the front of your bag so that it looks like a brooch or a pin. Sounds fun, right!
Cool Home Remedies to get your Jewellery's Sparkle back! 
How to take care of the Jewellery!
At Klissaa, we always emphasise on the importance of jewelry care. If used gently, then the jewelry will not lose its shine even after a regular use over a period of time. Ensure that you remove the jewelry before taking a shower and before exercising. Avoid using any perfume or chemicals since they have the potential to damage the delicate jewelry. And lastly, choose a dry and cool place to store your jewelry! These simple techniques can help you to maintain the shine of your jewelry for longer!! 
How to maintain your Jewels for long!
We often neglect our jewelry after using them. By keeping everything at the same place, the delicate jewelry gets entangled with one another, which eventually leads to the degradation of its quality. Every accessory needs to be separately secured with a zip lock pouch, which prevents it from moisture and improves the life of the item. Do not mix accessories up with one another. Earrings, necklaces, finger rings, etc. must have their own space or box to be kept in. This not only maintains the quality but also helps in not missing the small things out.