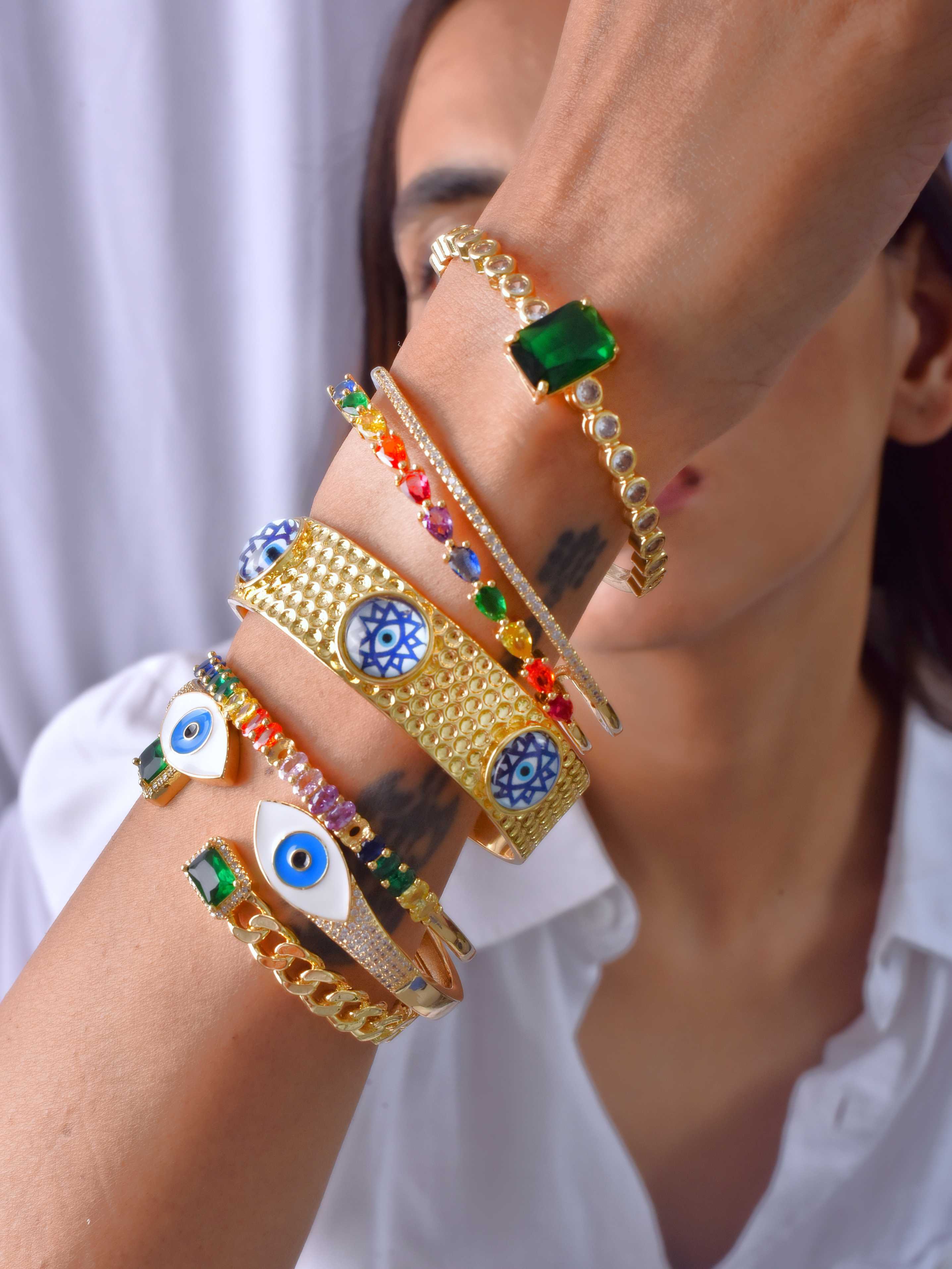 STYLISHLY ACCESSORIZE WITH NEW BRACELETS
Bracelets have always been a popular accessory, but with the ever-changing trends in fashion, it's important to stay up to date with the latest designs. Whether you're looking to add a touch of elegance to your outfit or make a bold statement, there's a trendy bracelet out there for you. In this blog post, we'll explore some of the hottest bracelet designs that are currently in vogue. Get ready to elevate your style game!
1. Delicate Chain Bracelets: The Epitome of Elegance
If you're a fan of understated elegance, delicate chain bracelets are a must-have in your jewelry collection. These bracelets feature thin, dainty chains that gracefully wrap around your wrist, adding a touch of sophistication to any ensemble. Whether you opt for a classic gold or silver chain or experiment with rose gold or mixed metals, these bracelets are versatile and can be worn alone or layered with other pieces.
2. Statement Cuff Bracelets: Make a Bold Fashion Statement
For those who prefer to make a bold fashion statement, statement cuff bracelets are the way to go. These eye-catching pieces are designed to be noticed, featuring intricate designs, vibrant colors, and unique materials. From chunky metal cuffs to bejeweled masterpieces, these bracelets are perfect for adding a touch of drama to your outfit. Pair them with a simple dress or a plain top to let the bracelet steal the show.
3. Layered Bracelets: Embrace Boho-Chic Vibes
If you're a fan of boho-chic fashion, layered bracelets are a must-have accessory. These bracelets are typically made with natural materials like brass, pearls, or glass beads, giving them a rustic and earthy feel. With a wide range of colors and patterns available, you can mix and match these bracelets to create a unique and personalized look. Stack them up your wrist for a trendy and eclectic vibe.
4. Charm Bracelets: Tell Your Story
Charm bracelets have been a beloved accessory for centuries, and they continue to be a popular choice for those who want to tell their own story through their jewelry. These bracelets feature a chain with various charms attached, each representing a special memory or personal interest. From travel-themed charms to birthstone pendants, you can customize your charm bracelet to reflect your unique personality and experiences.
5. Leather Wrap Bracelets: Edgy and Versatile
For those who prefer a more edgy and casual look, leather wrap bracelets are a great option. These bracelets are typically made with genuine leather and wrap around your wrist multiple times, creating a layered and textured effect. With a wide range of colors and styles available, you can find a leather wrap bracelet that suits your personal style. Pair it with jeans and a t-shirt for a laid-back yet fashionable look.
With these trendy bracelet designs, you can elevate your style and make a fashion statement. Whether you prefer delicate elegance, bold statements, boho-chic vibes, personal storytelling, or edgy versatility, there's a bracelet out there that's perfect for you. So go ahead, explore the world of trendy bracelets, and find the ones that speak to your unique sense of style!